Note: For best viewing, please click the maximize button at the bottom right corner of the video
Investor/RT (IRT) is a powerful trading platform featuring advanced charting and market analytics. IRT can be powered using real time or sim data provided by the S5 Trader platform as well as Rithmic or CQG.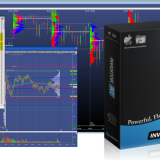 With close to 10 different chart types, 140+ technical indicators, and numerous drawing tools, Investor/RT makes it easy to build the charts and layouts you need as a trader. Lots of options and unparalleled levels of customization help provide the necessary edge to compete in today's markets.
Investor/RT is one of the largest vendors of Market Profile® for the CBOT. No need for add-ons. It is built right in with extensive functionality.
Market Profile® offers traders a structure to organize price activity in a logical way and to help see where "value" is being established. Traders typically use Market Profile® charts to determine price levels that are significant and might lead to reversals.
Verify your entries and exits by "zooming" in on how the auction is developing at key levels and to make better informed decisions.
Some of their most popular indicators:
Long term volume profiles
Automatic high/low volume levels
Peak Valley indicator
Heat Map profiles
Daily and intraday profiles
Value Area & POC for current day and previous
Naked POC and much more…
Sign up for a free Investor/RT trial with Rithmic