State of the Art trading and charting platform for the discerning trader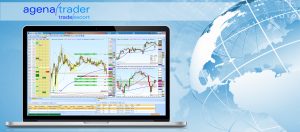 AgenaTrader is a high end trading platform, which goes one step further than analogous trading tools. With features ranging from chart trading and integrated market scanners, AgenaTrader aims to save valuable time for traders and provide all the necessary functionality for various trading styles and strategies. In addition to discretional and fully automated trading the semi-automated trading approach is also completely integrated.
Regardless of whether you prefer to trade with a chart, DOM, order book or using the keyboard, with this trading software, there are no limitations.
AgenaTrader Highlights
Open up to 2000 charts at once
Scan thousands of instruments in real time
Scan thousands of instruments in different time frames
Drag & Drop signal and strategy programming
Deep integrated risk- and money management tools
Automated calculation of the order size
Semi-automated trade-management
Multi-brokerage / multi-datafeed at the same time
Fully automated trading using the AgenaScript (C#/.Net)
Import indicators and strategies from an external system
Serious Advantages for Serious Traders
Automatize the routine work of the daily trading cycle!
AgenaTrader provide you with more time to check the quality of trades
The time in front of the computer can be reduced
Risk reduction/management!
Condition-Escort
Program signals simply by a mouse click!
Programming skills are not required!
Compare many different indicators with each other or with static values!
Mix variable time frames per Condition!
Program complicated signals using AND, OR, XOR relations and brackets simply by a mouse click and without programming skills!
Use Conditions to create complete strategies, in AT Centaurus, by a mouse click!
Market Scanner
Scan thousands of instruments in real time according to your signals!
Use indicators and self-coded signals or conditions for scanning!
Program your signals via C#-AgenaScript or using the ConditionEscort by mouse click!
AgenaTrader will search your signals in different time frames!
Combine entry signals and complete strategies with stops and targets by mouse click in the SetupEscort!
Activate strategies by mouse click as soon as the corresponding signal appears in the scanner!
According to the motto: the system suggests, the market and the user decide, AgenaTrader manages your trades!
Even more features to support your trading
Advanced Charting
Set up Chart Groups
Tick by tick simulation
Chart Trading, OrderPad, OrderEscort or dynamic DOM trading
Automatized Trading using C#-AgenaScript to program strategies, indicators and trade management conditions
Request a Free Trial with S5 data included:
[ninja_forms_display_form id="42″]