Join us for a Free Webinar on Trading the Micro E-Minis w/ Max Timmins @ Stage 5 Trading & Dave Lerman @ CME Group
Tuesday, April 30, 2019
3:30 PM Central Time (US)
Trading the Micro E-Minis w/ Max Timmins @ Stage 5 Trading & Dave Lerman @ CME Group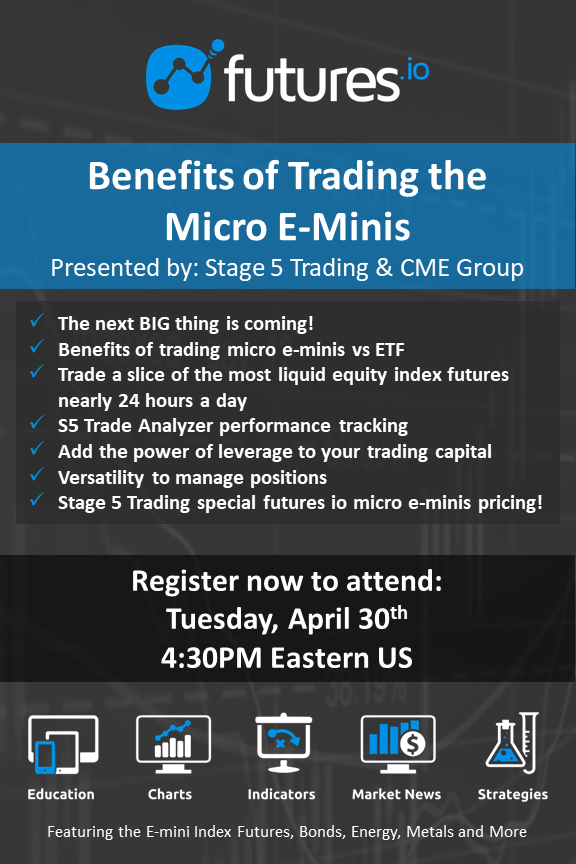 Learn the Potential Benefits of Trading the Micro E-Minis with Stage 5 Trading and the CME Group.

Trade a slice of the most liquid equity index futures nearly 24 hours a day.
S5 Trade Analyzer performance tracking.
Add the power of leverage to your trading capital.
Versatility to manage positions.
Stage 5 Trading special futures.io micro e-minis pricing!
Be the first to start trading the Micros by singing up for a demo of the S5 Trader! Click Here to sign up!
If you have any questions or we can assist with anything please contact your broker or the Stage 5 Client Services team at client-services@s5trading.com
Trading Futures and Options on Futures involves substantial risk of loss and is not suitable for all investors. Opinions, market data, and recommendations are subject to change without notice. Past performance is not indicative of future results.