It seems to be a little-known fact that an IRA account holder can open a futures account and trade it just as they would trade their usual account. Our preferred IRA Administrator, MidlandIRA trust, is waiving the setup fees associated with an IRA account for a limited time. If you have been considering moving your account from another broker, this is the time to do so.
Midland IRA will waive the New Account Setup Fee (annual fees apply)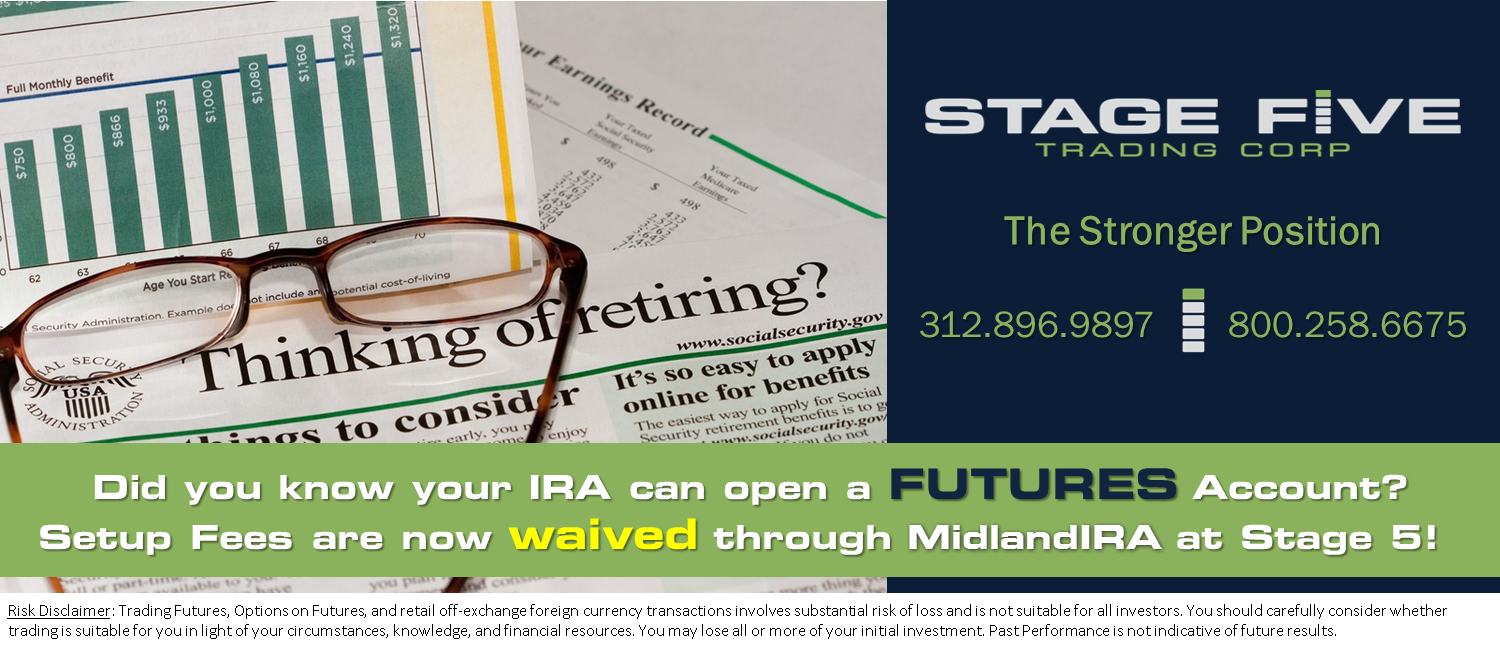 Stage 5 Trading offers traders the ability to trade a self-directed futures account with an Individual Retirement Account (IRA), through a variety of executional platforms. Trading a self-directed IRA futures account combines the advantages of an IRA with the benefits of futures trading.
Trading futures with your IRA account (Traditional IRA, Roth IRA, Rollover IRA, Simple IRA, or SEP ) can be done through Stage 5 by working with a third party administrator, such as MidlandIRA Trust or Millennium Trust, to serve as the trust company for the IRA.
Because futures trading contains a great deal of leverage and thus risk/reward, please take time to consider whether using your retirement funds is suitable for your financial situation.
First Step: It only takes minutes to fill out an individual account application online using the clearing firm or platform of your choice:
GAIN Capital Group, LLC – Click Here
S5 Trader, S5 Trade Analyzer, S5 Mobile Trader, S5 iSystems compatible with:
JigsawTrading
S5 BookMap
SierraChart
InvestorRT
MarketDelta Charts, MarketDelta Trader
MultiCharts, MultiCharts.net
AgenaTrader
eSignal
MotiveWave
TradeNavigator
BlueWater, InsideEdge
iBroker
C2 (Collective 2)
Dorman Trading – Click Here
Compatible with: 
CQG – Spreader, Trader, QTrader, Integrated Client, Trader Simple, API
Rithmic Trader, Rithmic Trader Pro, R l Trader API +, API, FIX API, Diamond API, BASS
BarChart Trader
QST – Silver Plus , Broker Plus, Gold Plus, Platinum Plus
Second Step: Fill out the MidlandIRA Trust Application – Click Here
If you have any questions with the Midland IRA Trust Account application please contact a customer service representative below.
Midland IRA Trust, LLC Futures Team
Main Office: 239.333.1032
Direct Line: 239.333.4924
Email: Futures@MidlandIRA.com